In recent years the Rímac River, a critical resource to the city of Lima, Peru, has lost its connection to the city. This strategy aims to create accessible open spaces that connect the river back to Limenos physically and ecologically.
En los últimos años, el río R

í
mac, un recurso crítico para Lima, ha perdido su conexión con la ciudad. Esta estrategia tiene como objetivo crear e

spacios abiertos accesibles que conecten el río con los limeños física y ecol

ógicamente.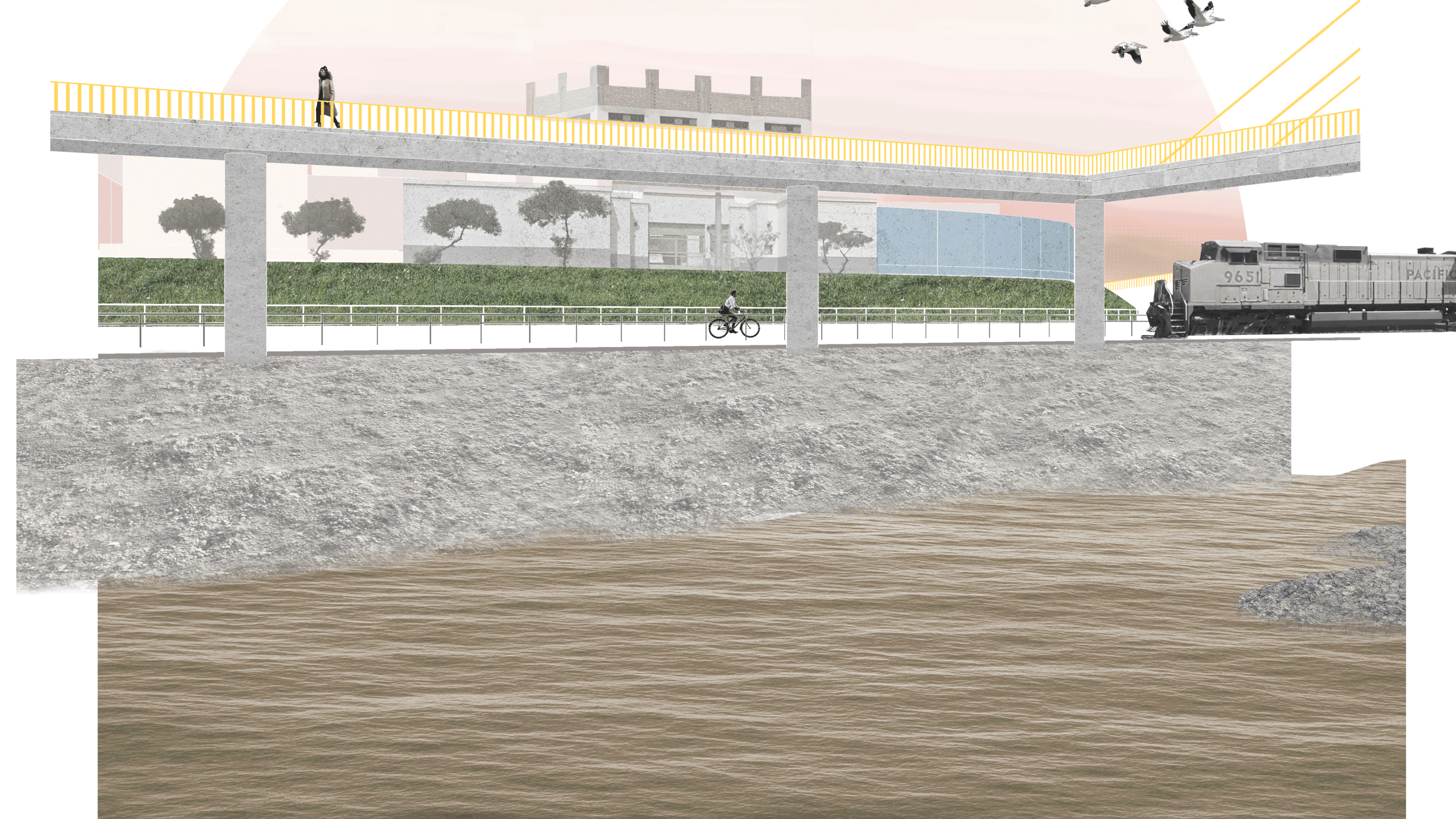 The Rímac River as seen below is the largest source of open space for the city of Lima that is not yet being used to its full potential.
El río R

í

mac, como se ve a continuación, es la mayor fuente de espacio abierto para la ciudad de Lima que aún no se está utilizando en todo su potencial.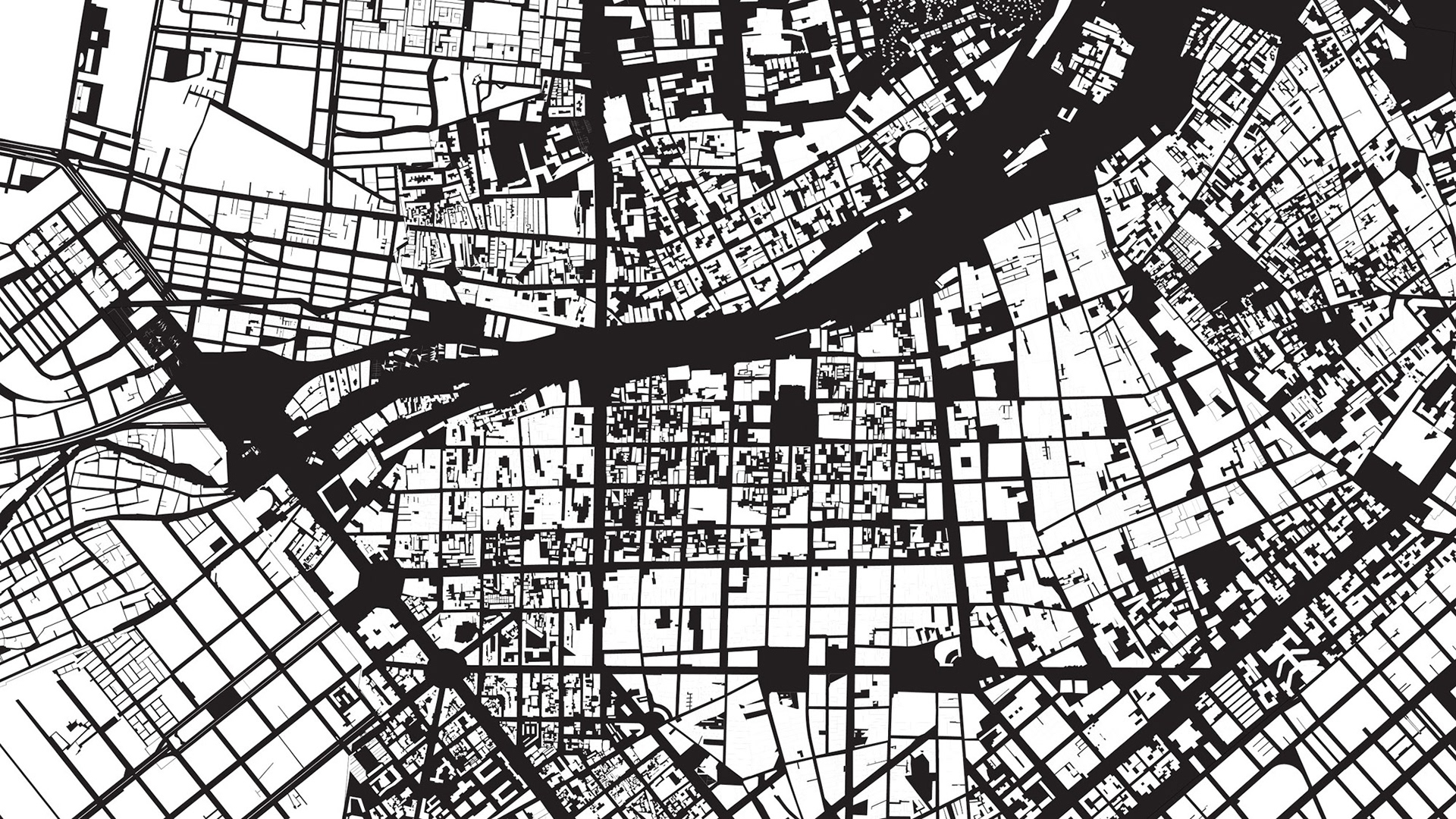 Looking at the context of the site, a major highway acts as a barrier on the Rímac side while on the downtown side there is a gap that does not connect to the existing space to the river.
Al observar el contexto del sitio, una carretera principal actúa como una barrera en el lado del R

í

mac, mientras que en el lado del centro hay una brecha que no conecta con el espacio existente con el río.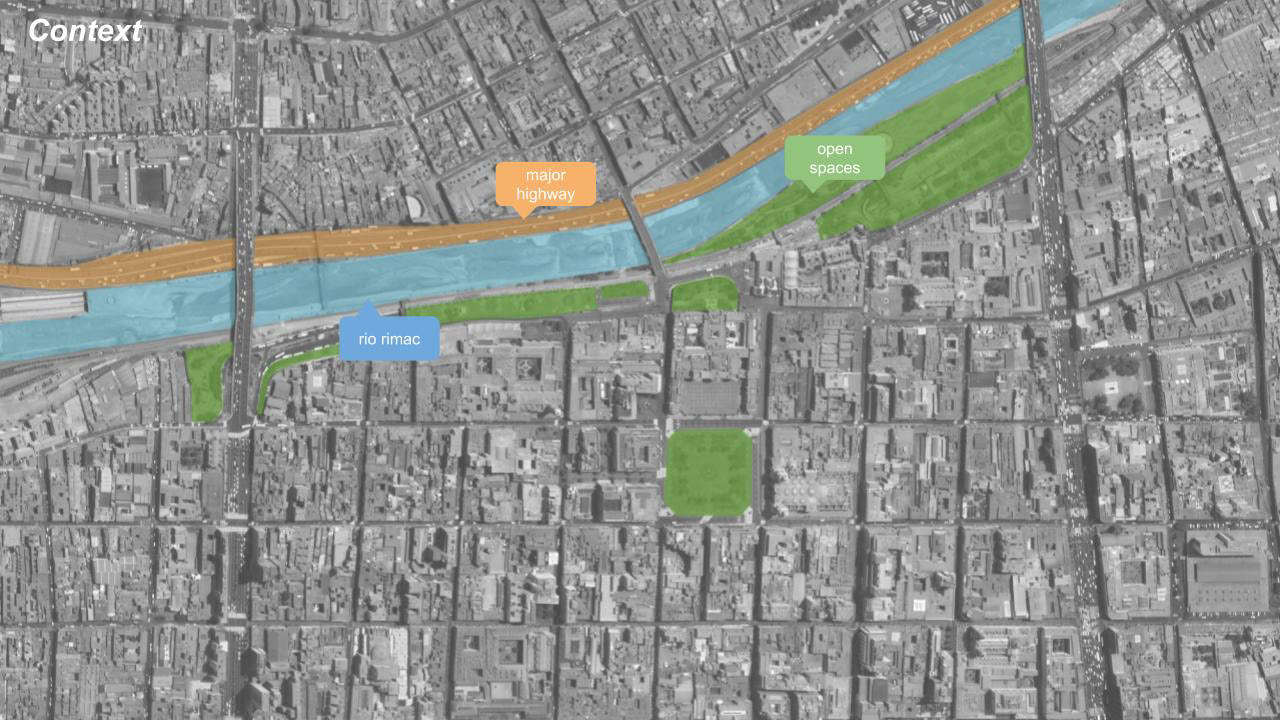 We see this proposal as a part of a larger scheme to rehabilitate the river and equally engage Limeños, especially children, in the success of its ecology.
The strategies used in this priority site demonstrate the potential for recovery and how that may look as a growing community engagement project.
Vemos esta propuesta como parte de un plan más amplio para rehabilitar el río e involucrar igualmente a los limeños, especialmente a los niños, en el éxito de su ecología.
Las estrategias utilizadas en este sitio prioritario demuestran el potencial de recuperación y cómo puede verse como un proyecto de participación comunitaria en crecimiento.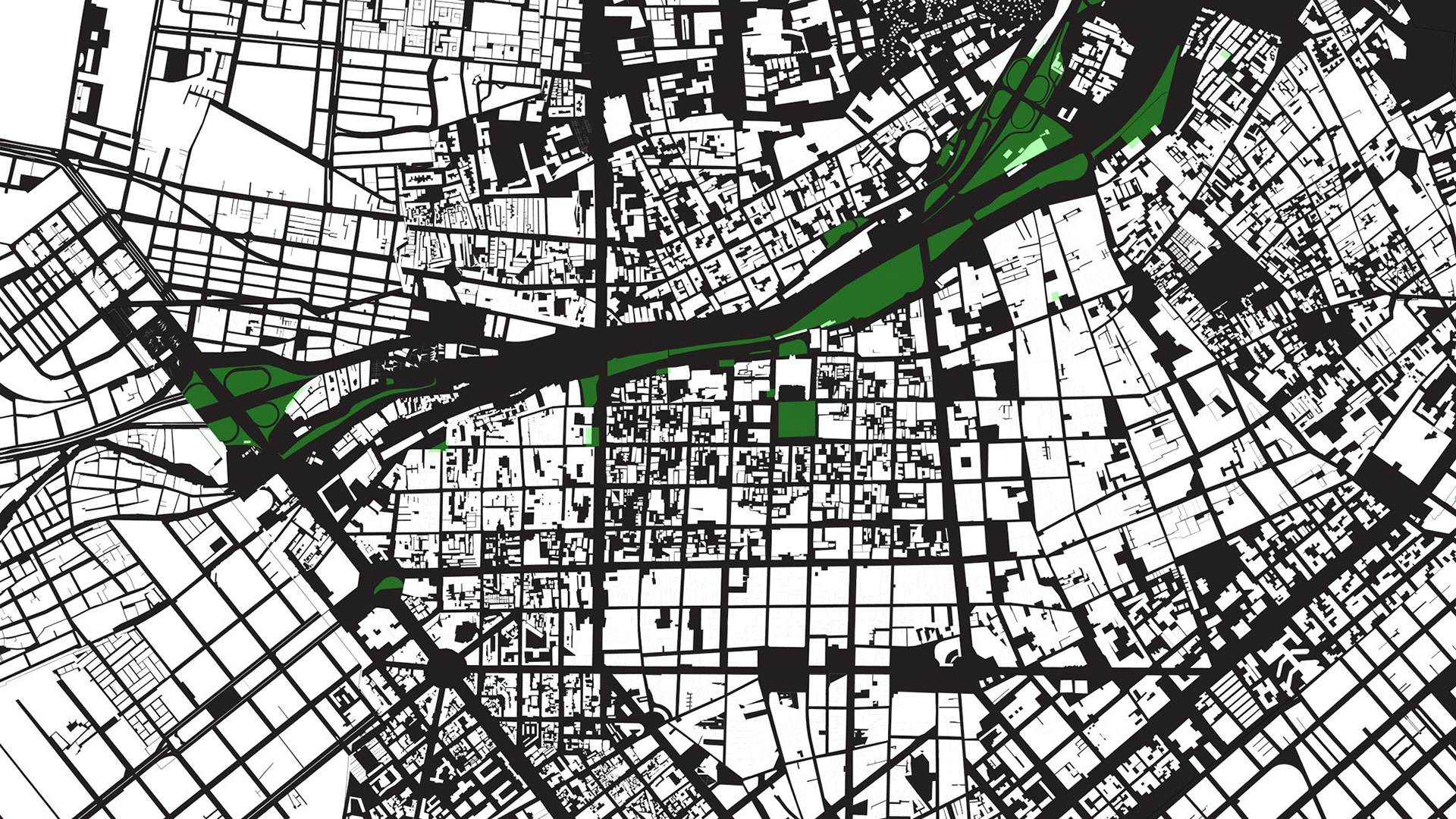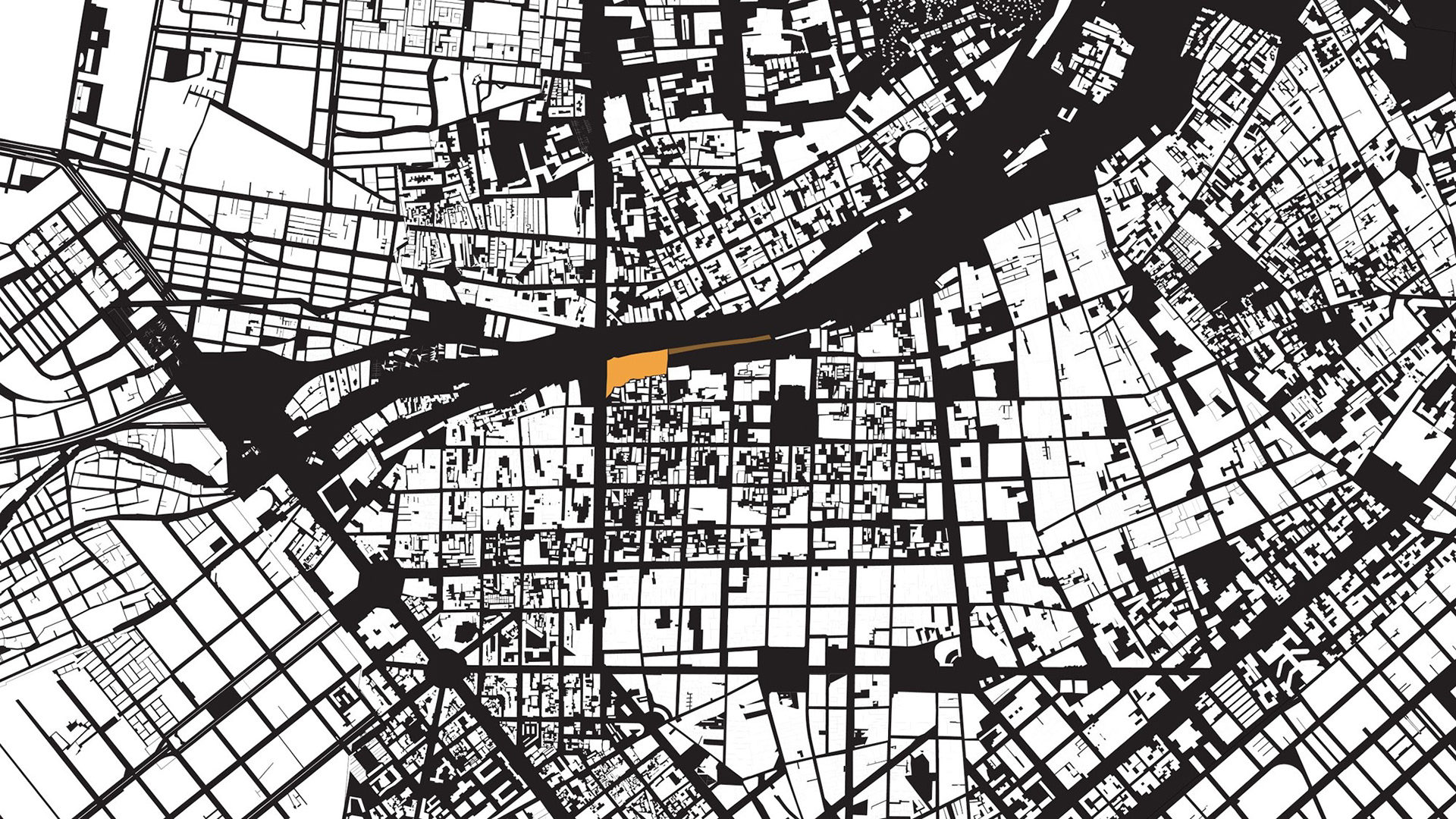 Immediately to the left of our site is Avenue Tacna, a major thoroughfare from Lima to Rimac. On the right hand side is the Alemeda Chabuca Granda, an elevated open space that covers a parking lot and connects to the pedestrian bridge, Puente Rayitos de Sol.
Inmediatamente a la izquierda de nuestro sitio está la Avenida Tacna, una vía importante de Lima a Rimac. A mano derecha se encuentra la Alameda Chabuca Granda, un espacio abierto elevado que cubre un estacionamiento y conecta con el puente peatonal Puente Rayitos de Sol.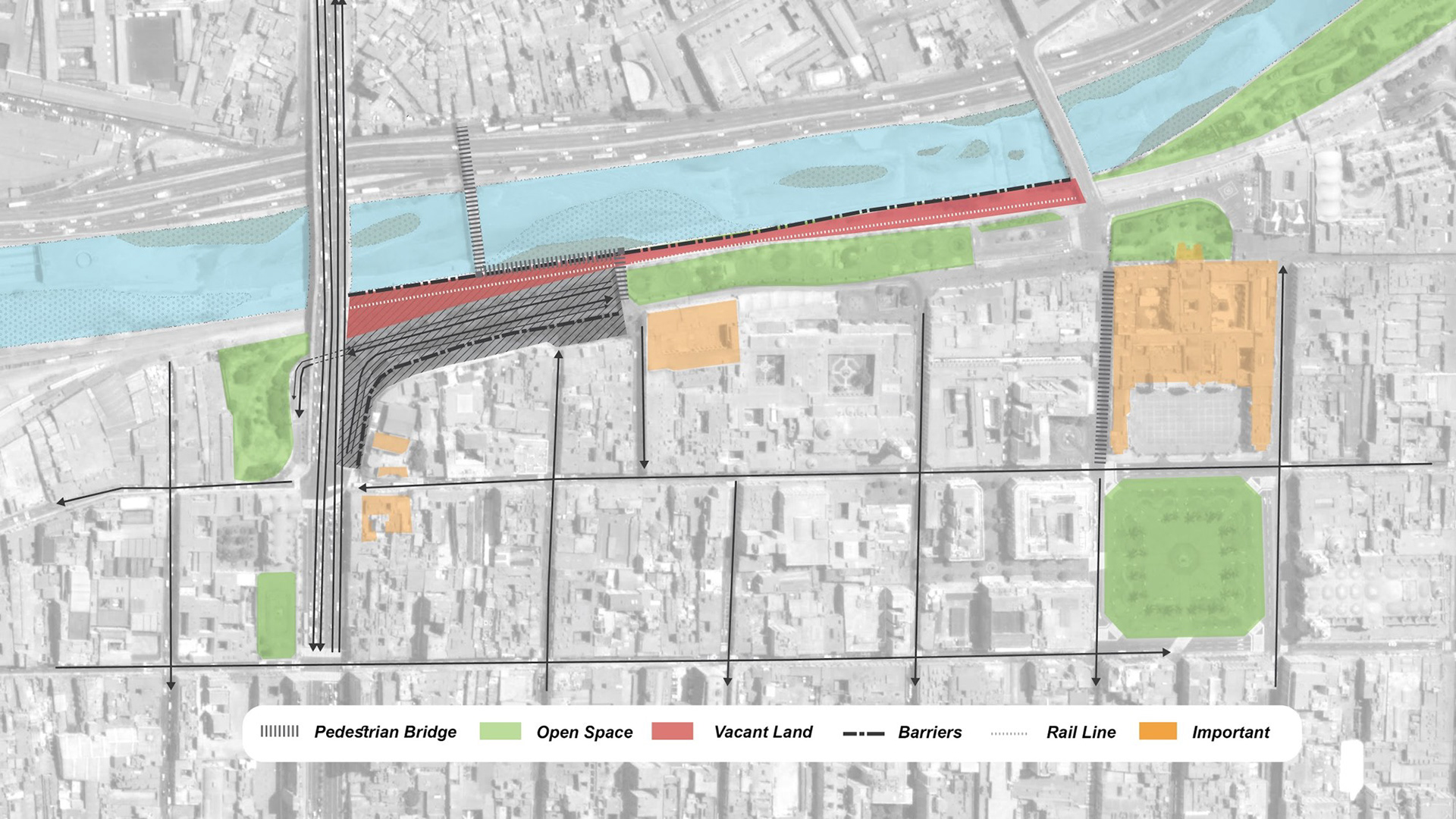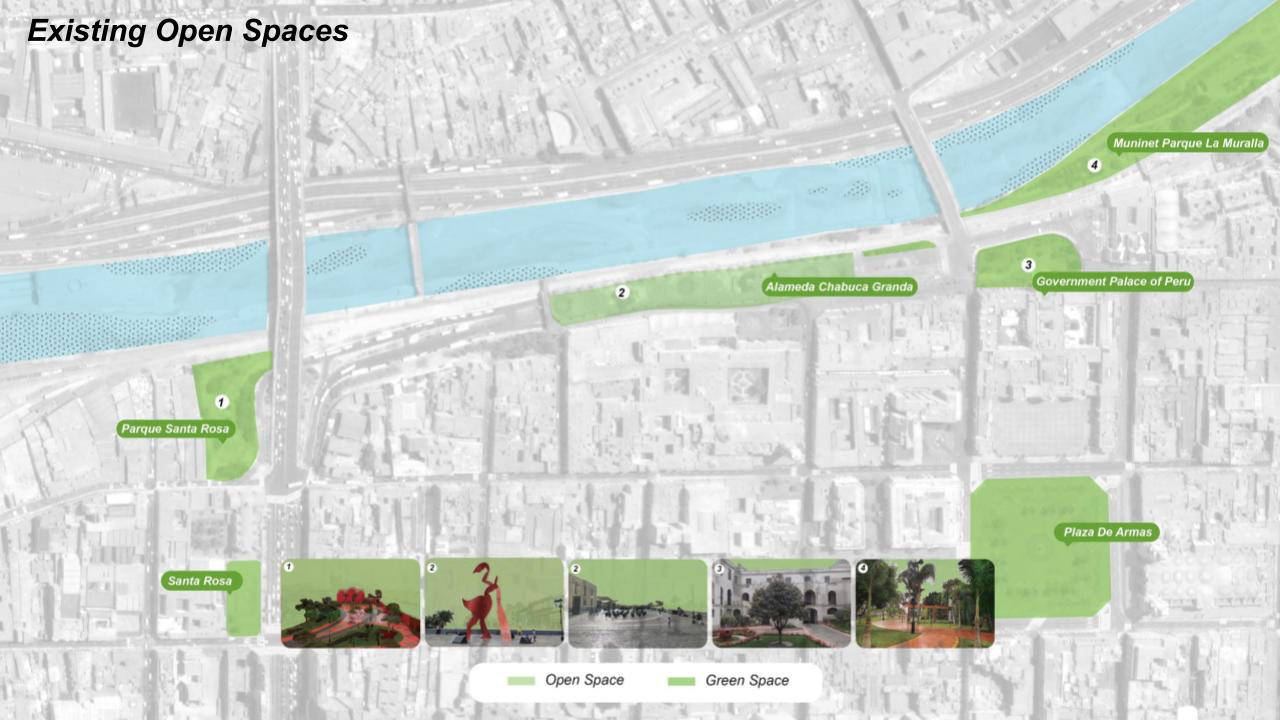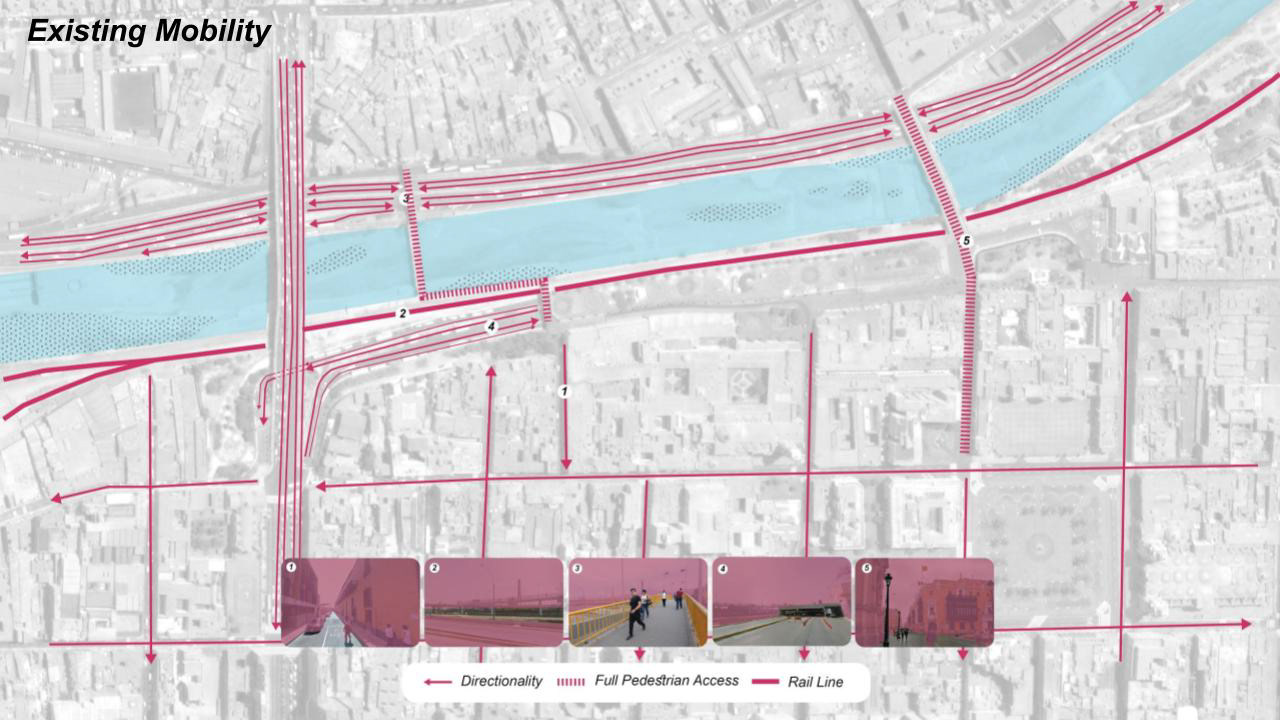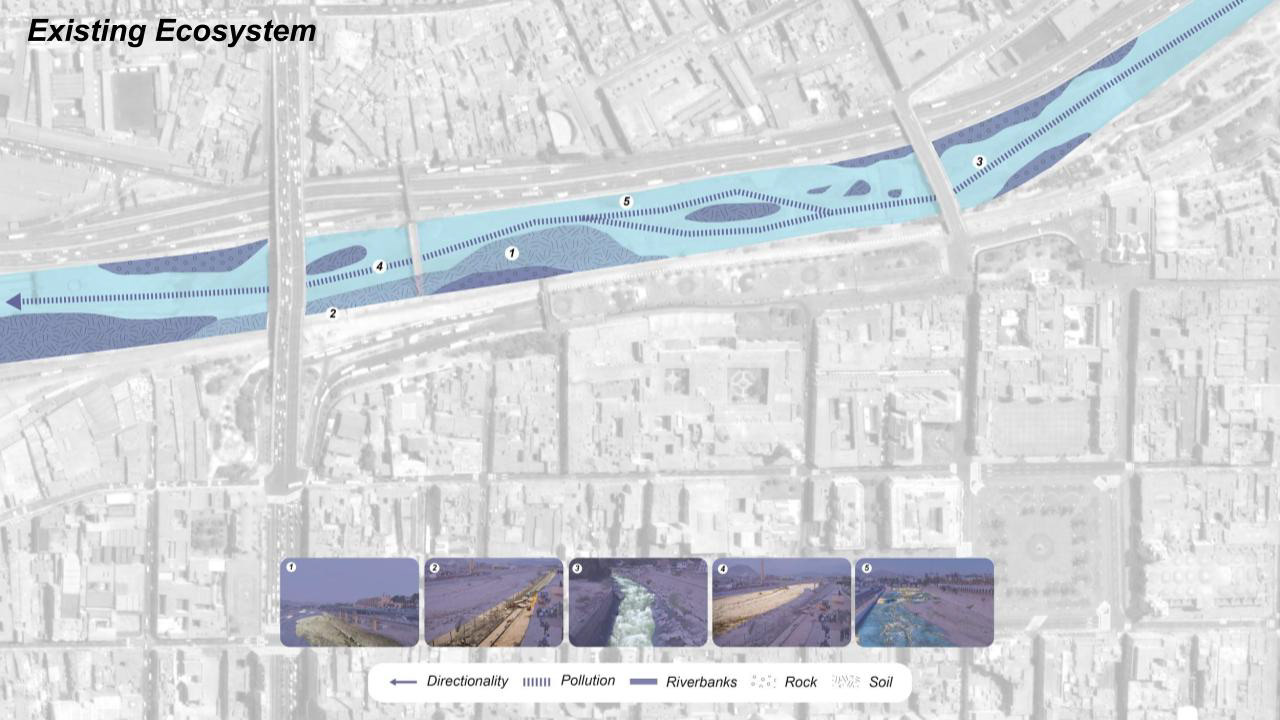 The project would begin by identifying the existing conditions through a three dimensional view. Here, we can focus on our previous analysis points and annotate the immediate concerns within our site and provide a more personal level perspective for viewers to understand.
El proyecto comenzaría identificando las condiciones existentes a través de una vista tridimensional. Aquí, podemos centrarnos en nuestros puntos de análisis anteriores y anotar las preocupaciones inmediatas dentro de nuestro sitio y proporcionar una perspectiva de nivel más personal para que los espectadores la comprendan.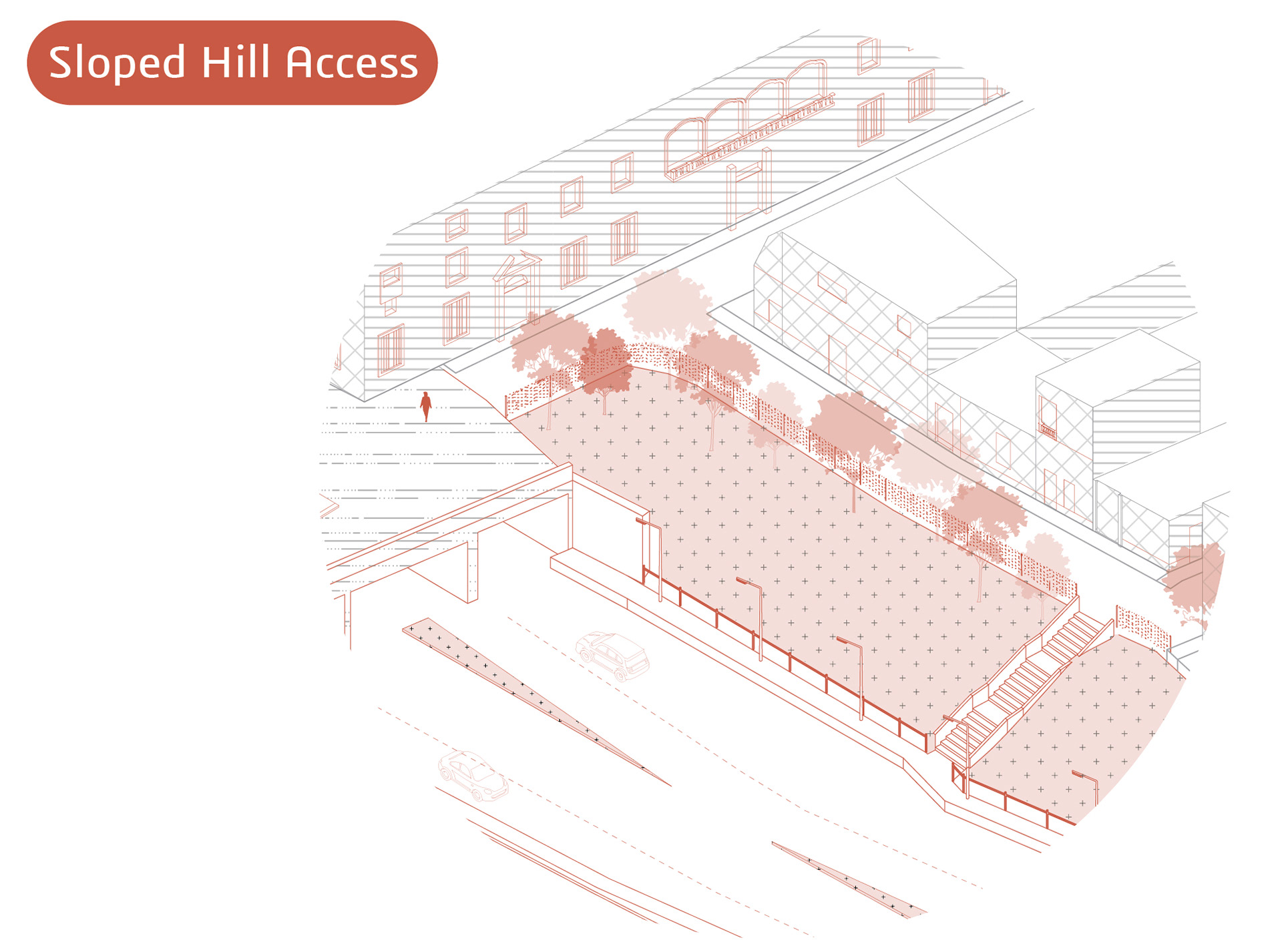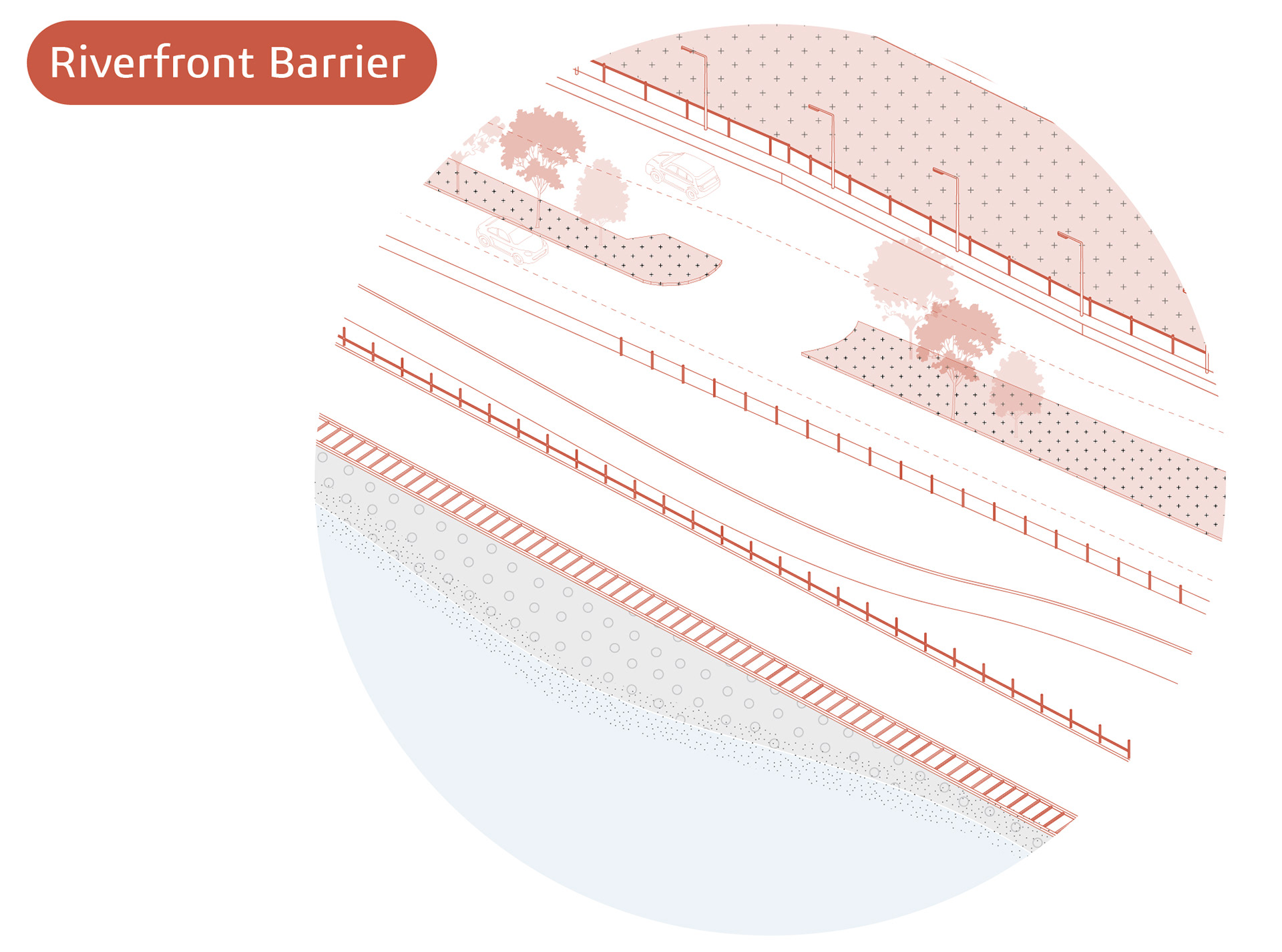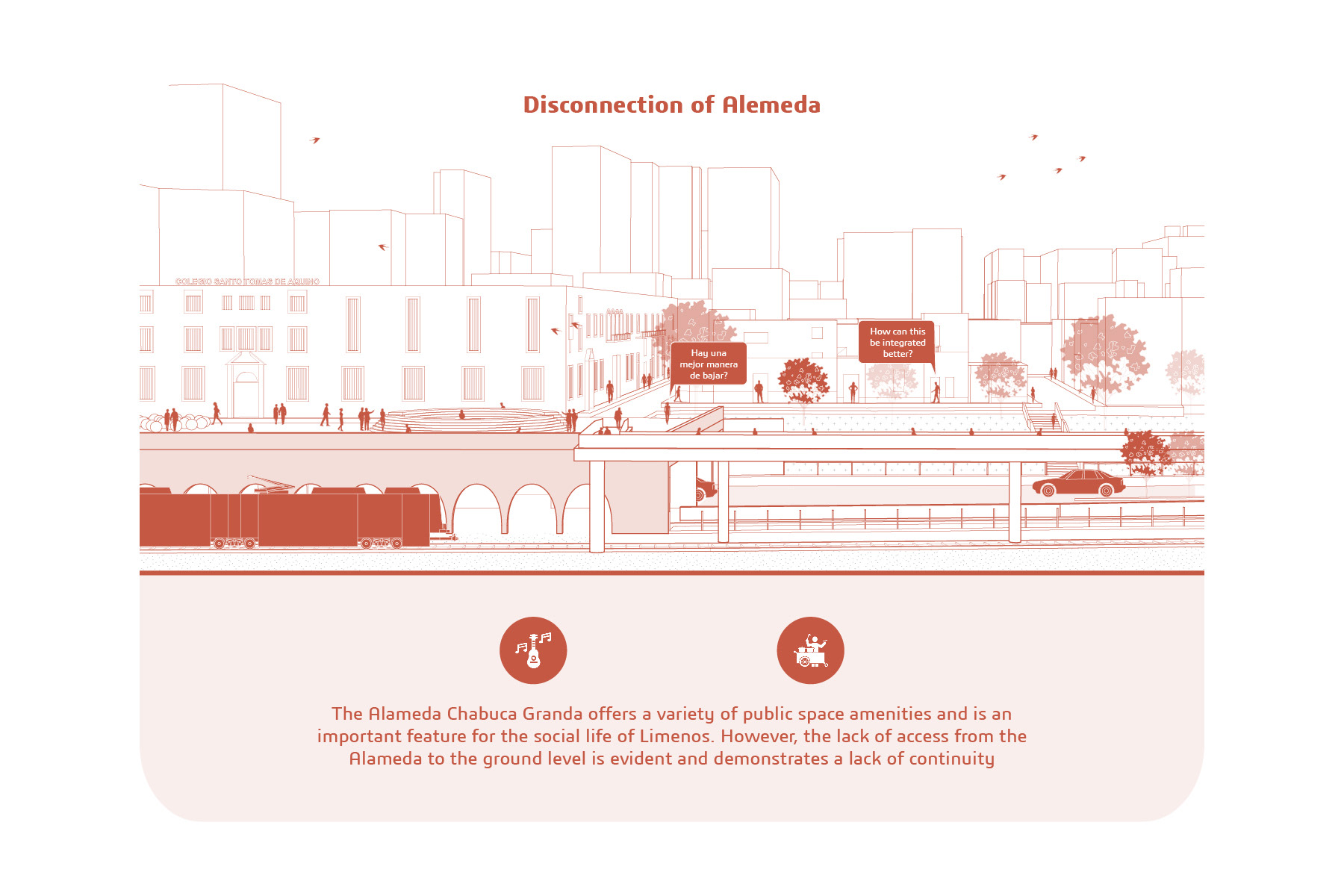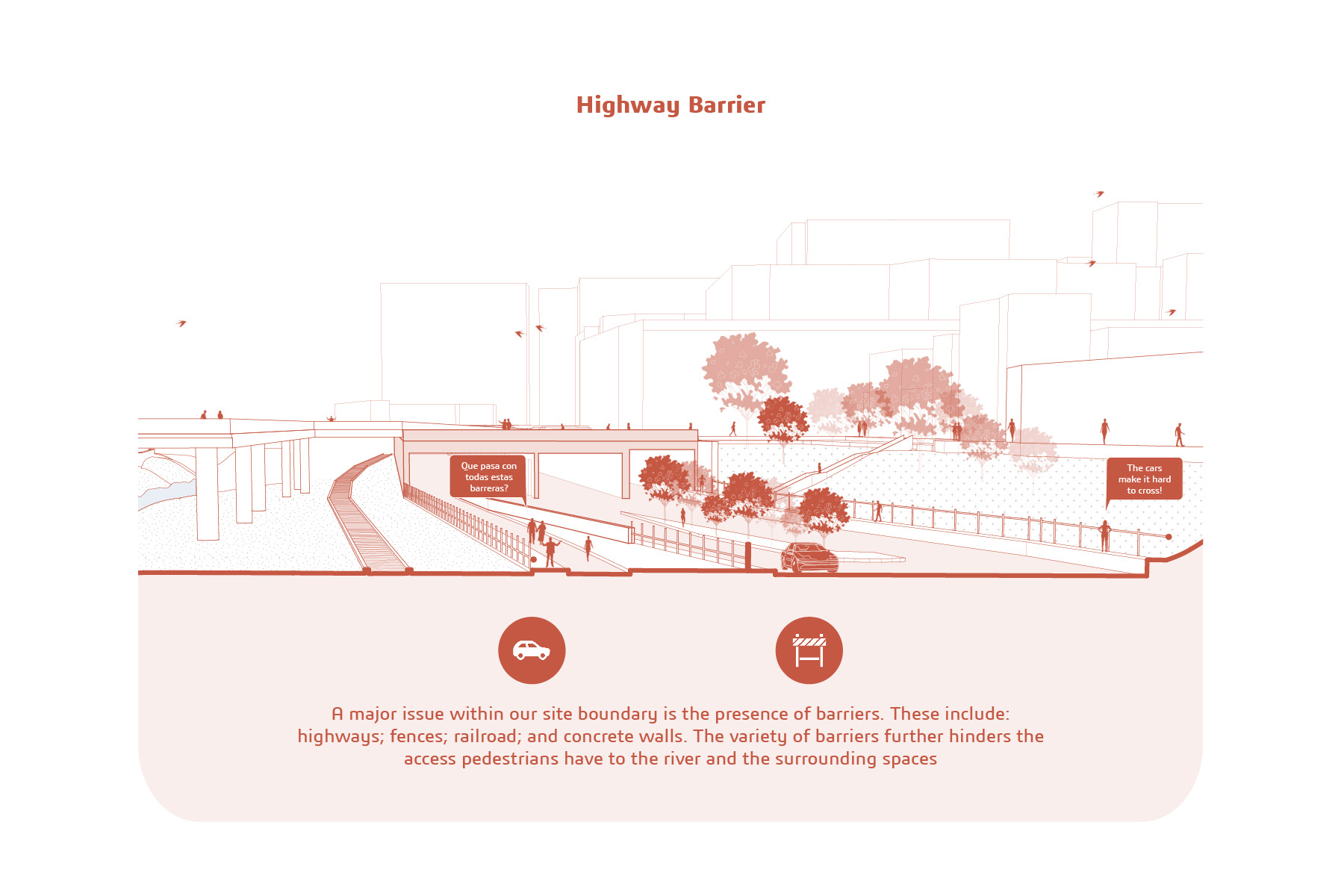 In plan, we visualize our site and its existing conditions in a way to understand the limitations users have when visiting. The disconnection from the Alameda as well as the high amount of barriers such as the rail line depict a space that is not utilized to its potential.
En plan, visualizamos nuestro sitio y sus condiciones existentes de manera que comprendamos las limitaciones que tienen los usuarios cuando lo visitan. La desconexión de la Alameda, así como la gran cantidad de barreras como la línea ferroviaria, representan un espacio que no se aprovecha al máximo.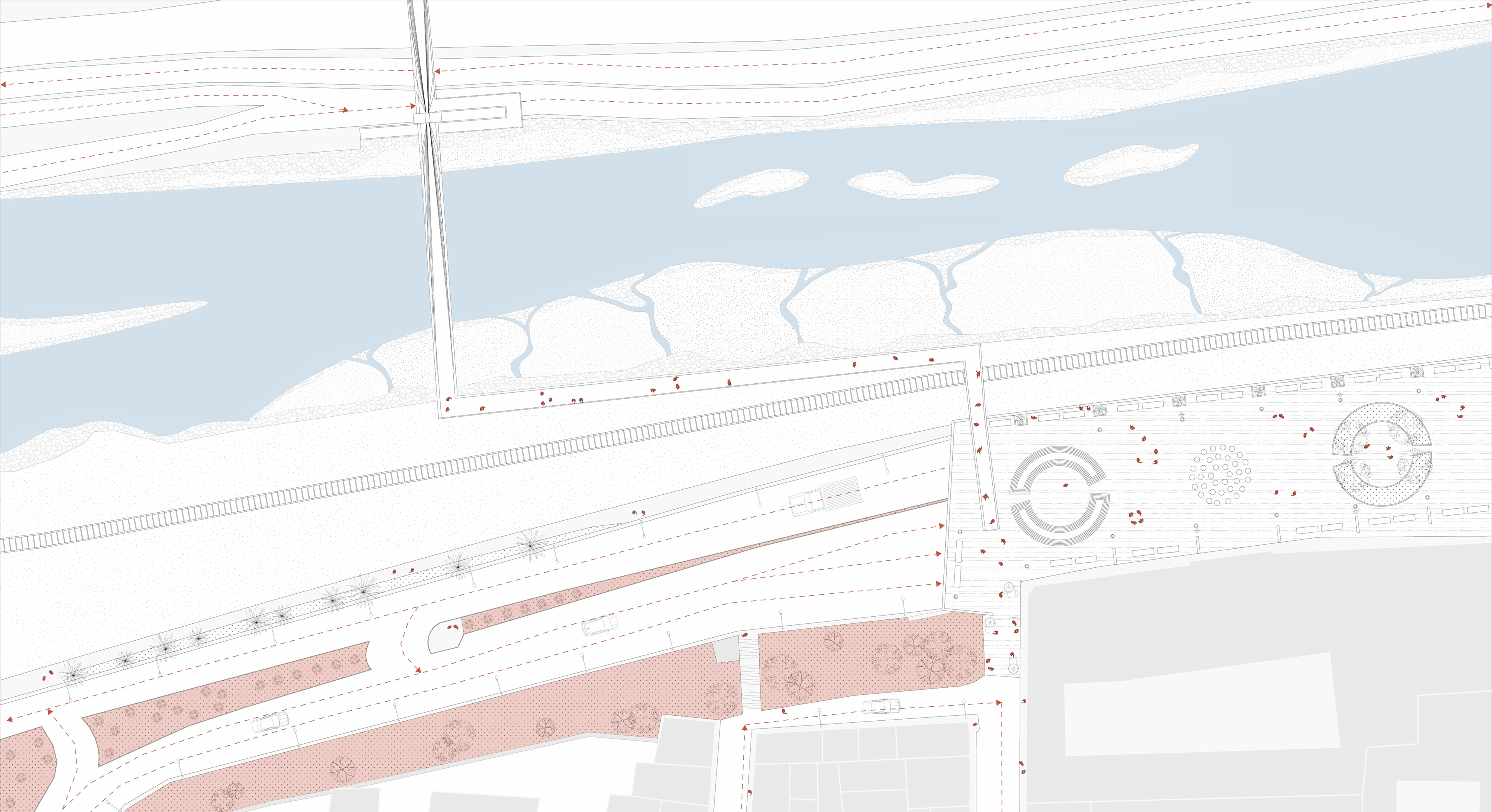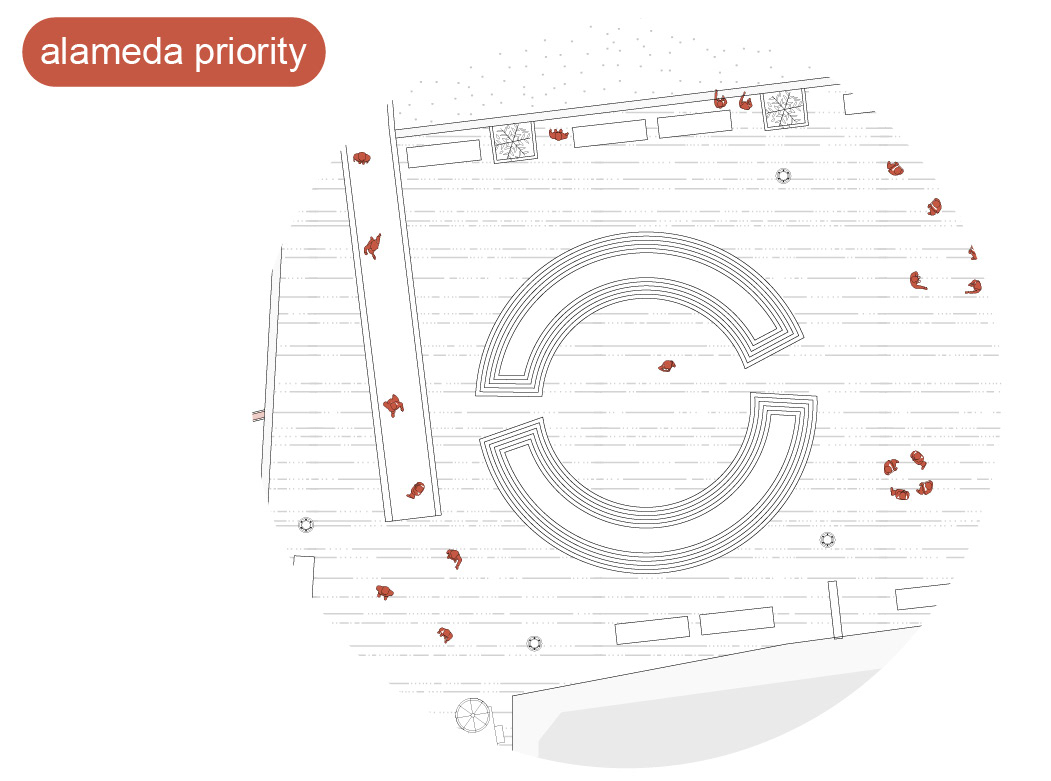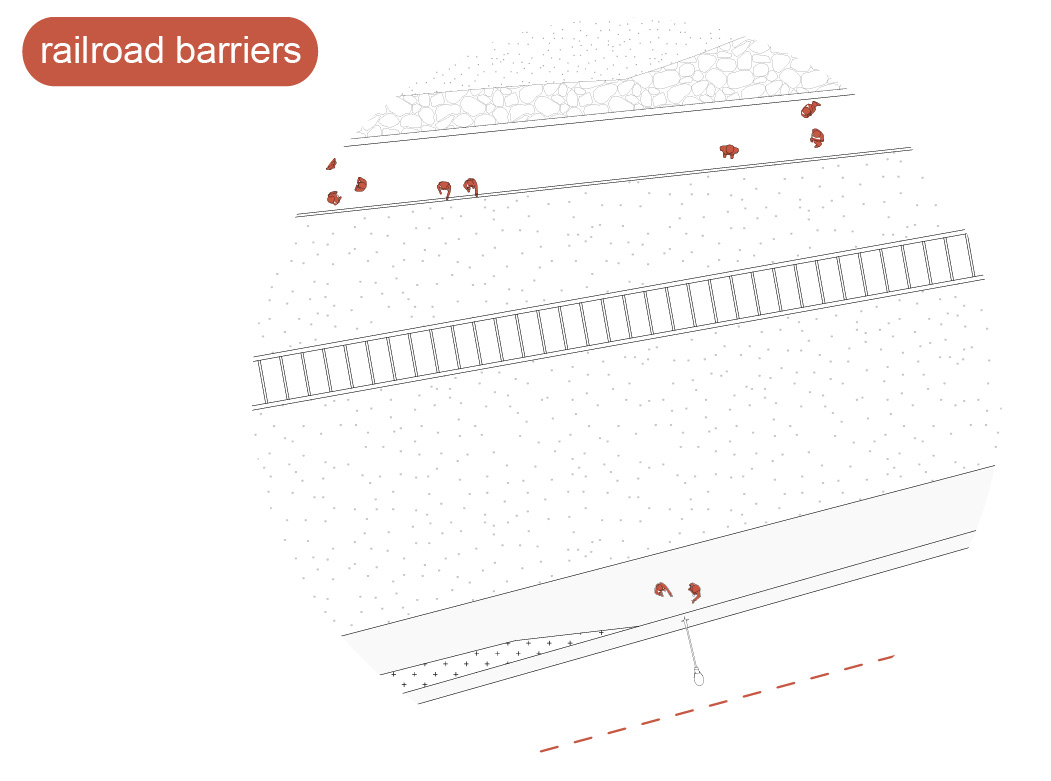 The project would begin with its first phase which includes: street closures and initial steps to ecological reintroduction to the river. The existing elevation change within the site would be tiered and stepped to create more useable spaces that gradually bring users down to the next level.
El proyecto comenzaría con su primera fase que incluye: cierre de calles y pasos iniciales para la reintroducción ecológica al río. El cambio de elevación existente dentro del sitio se escalonaría y escalonó para crear espacios más utilizables que llevarían gradualmente a los usuarios al siguiente nivel.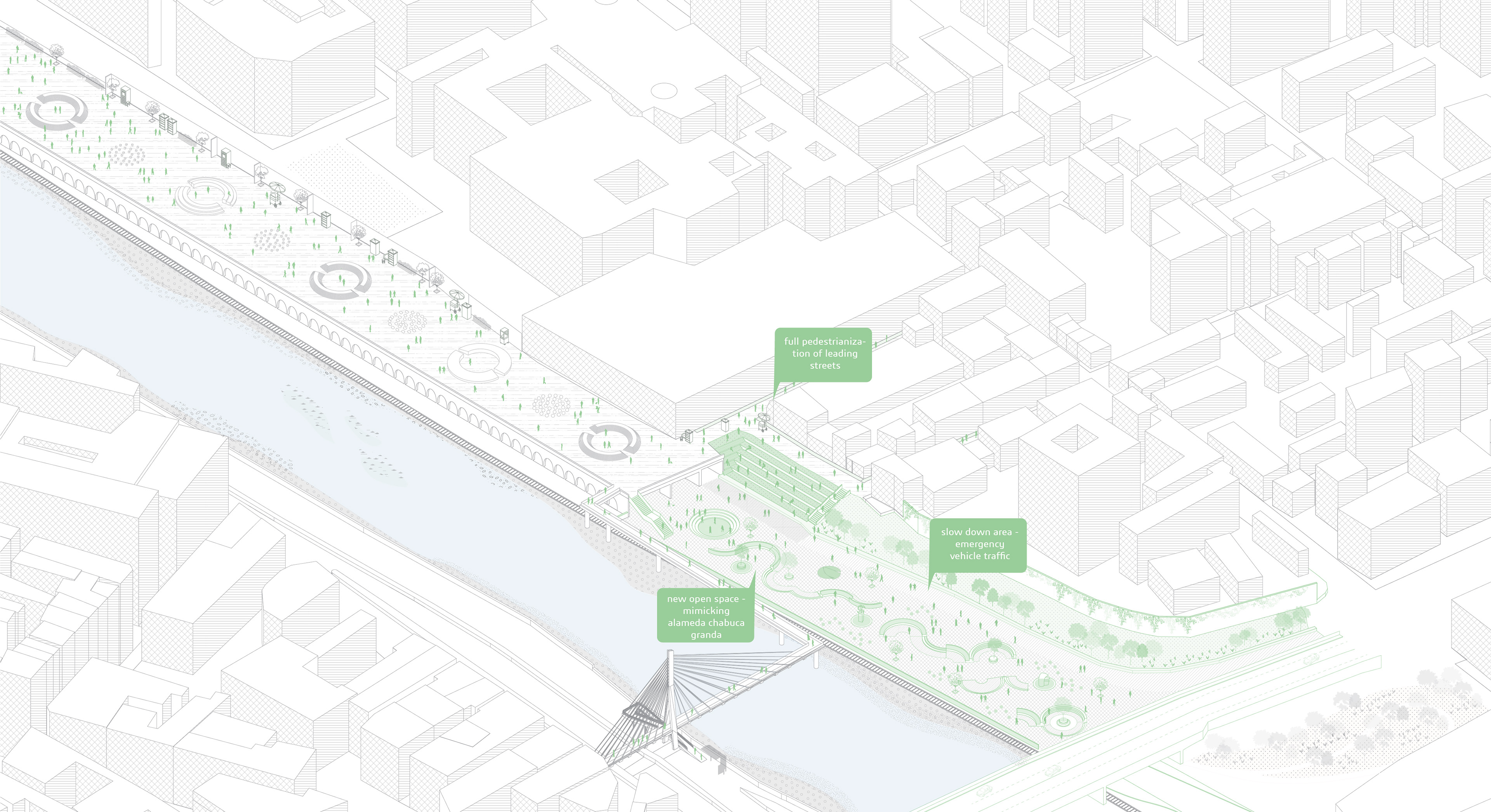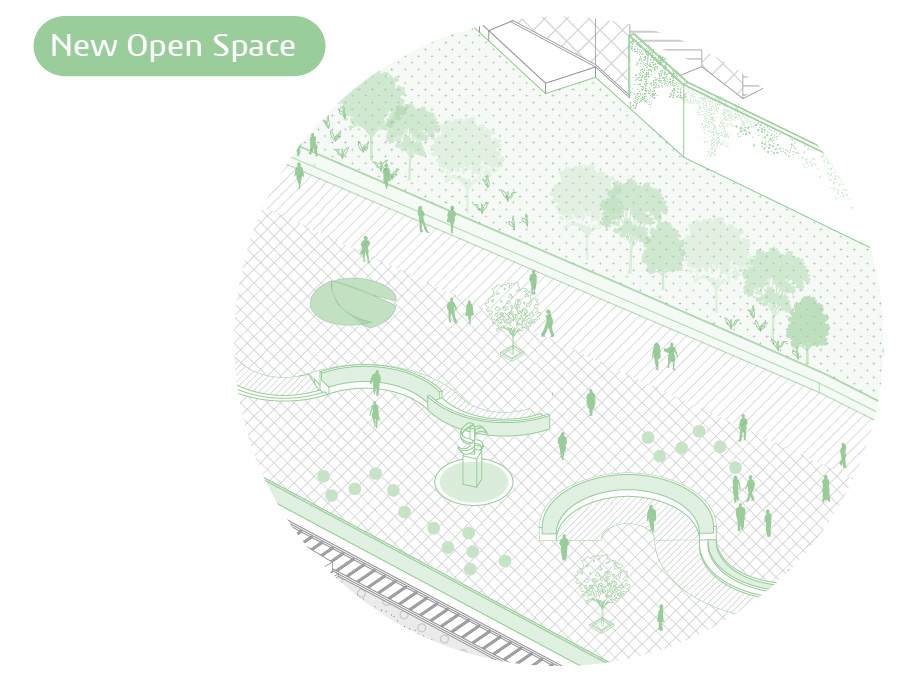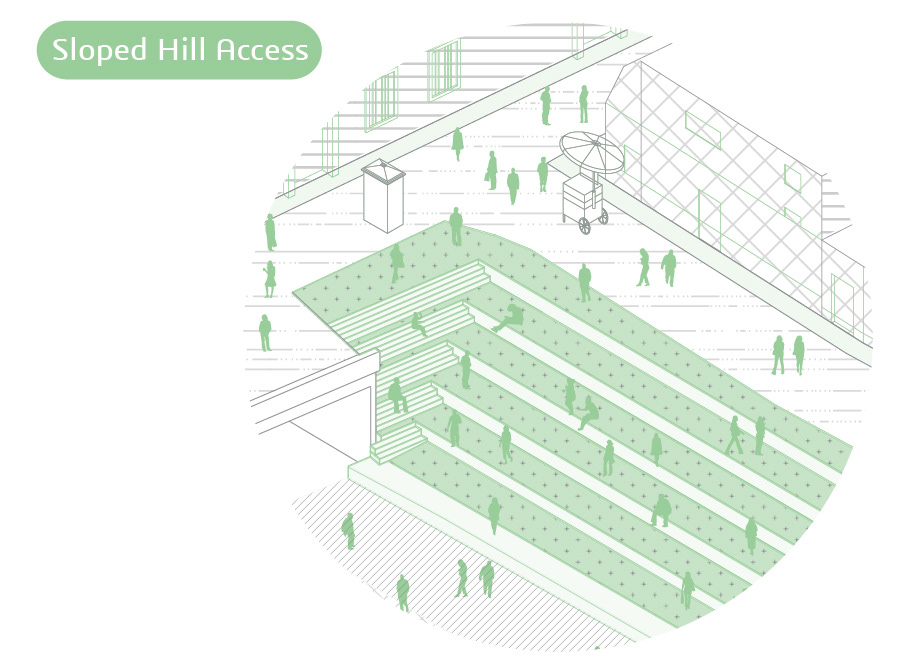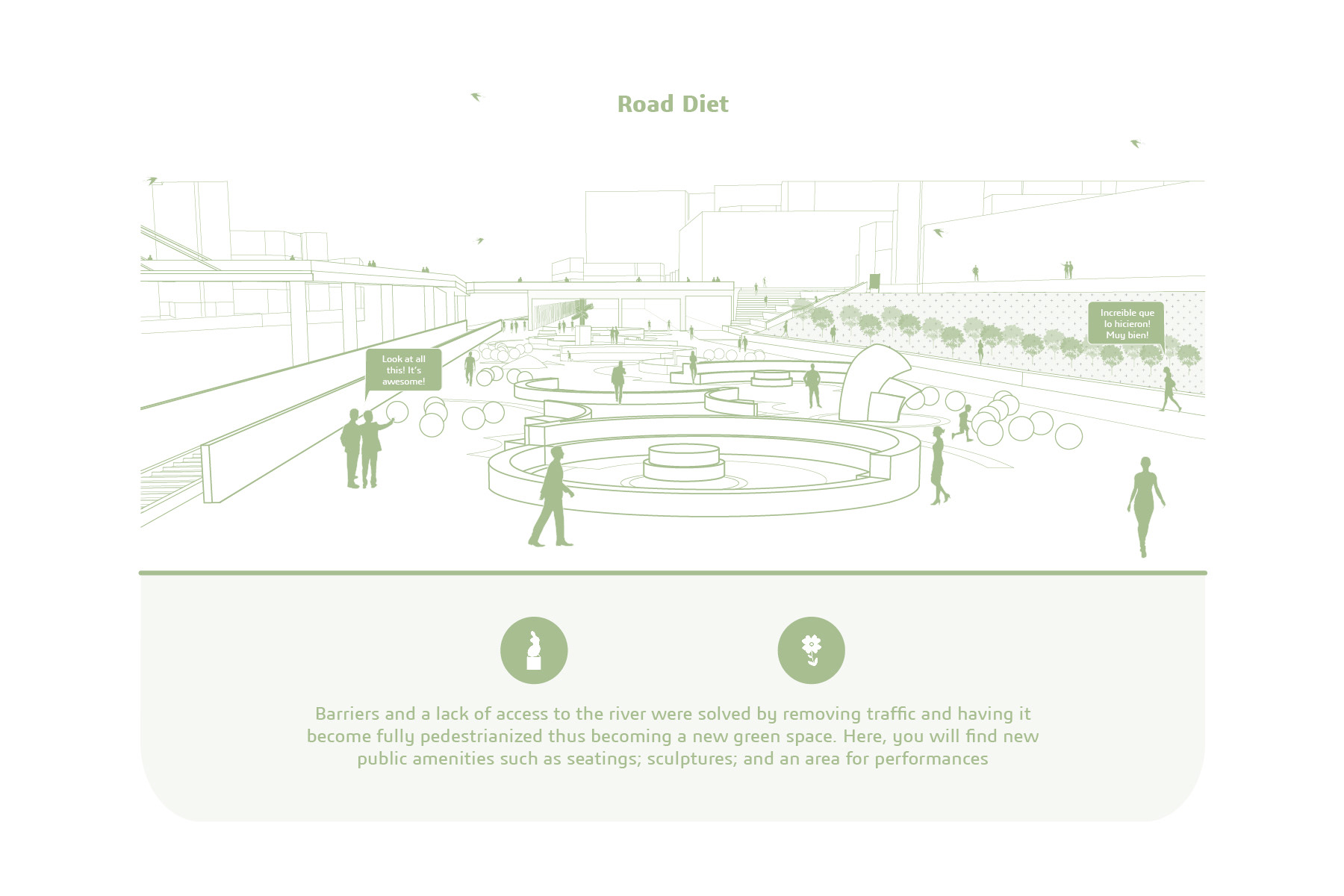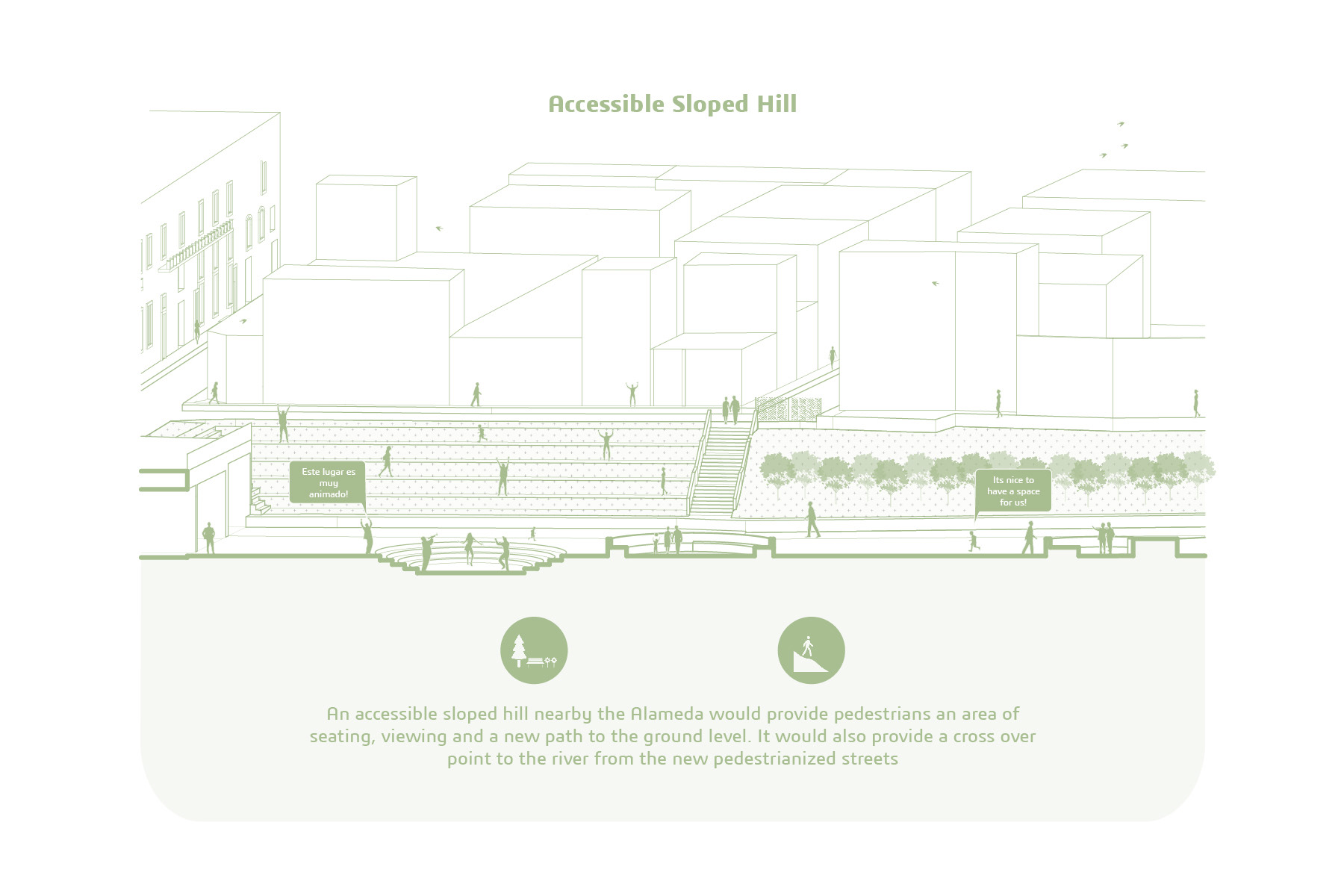 The street closure could also create a series of spaces and stairs that draw from the existing geometry of the Alameda Chabuca Granda, tying the two spaces together physically and visually. The proposed spaces will define how the spaces will interact and connect the upper and lower levels of the site while creating new public spaces.
El cierre de la calle también podría crear una serie de espacios y escaleras que se inspiren en la geometría existente de la Alameda Chabuca Granda, uniendo los dos espacios física y visualmente. Los espacios propuestos definirán cómo los espacios interactuarán y conectarán los niveles superior e inferior del sitio mientras se crean nuevos espacios públicos.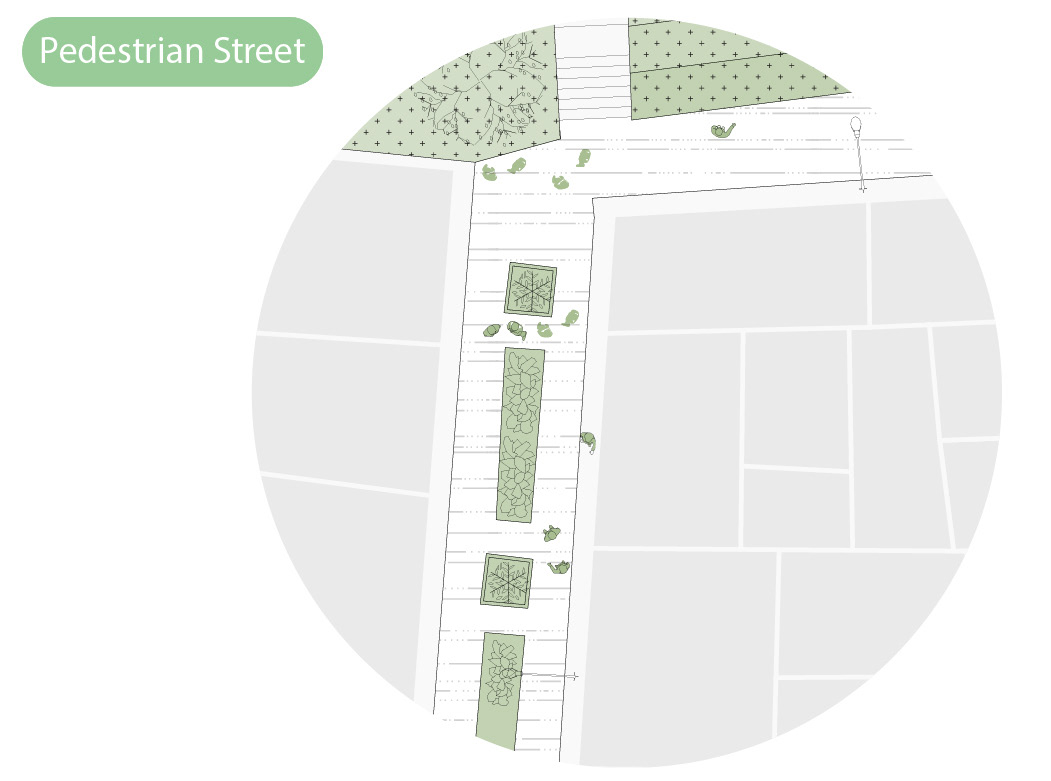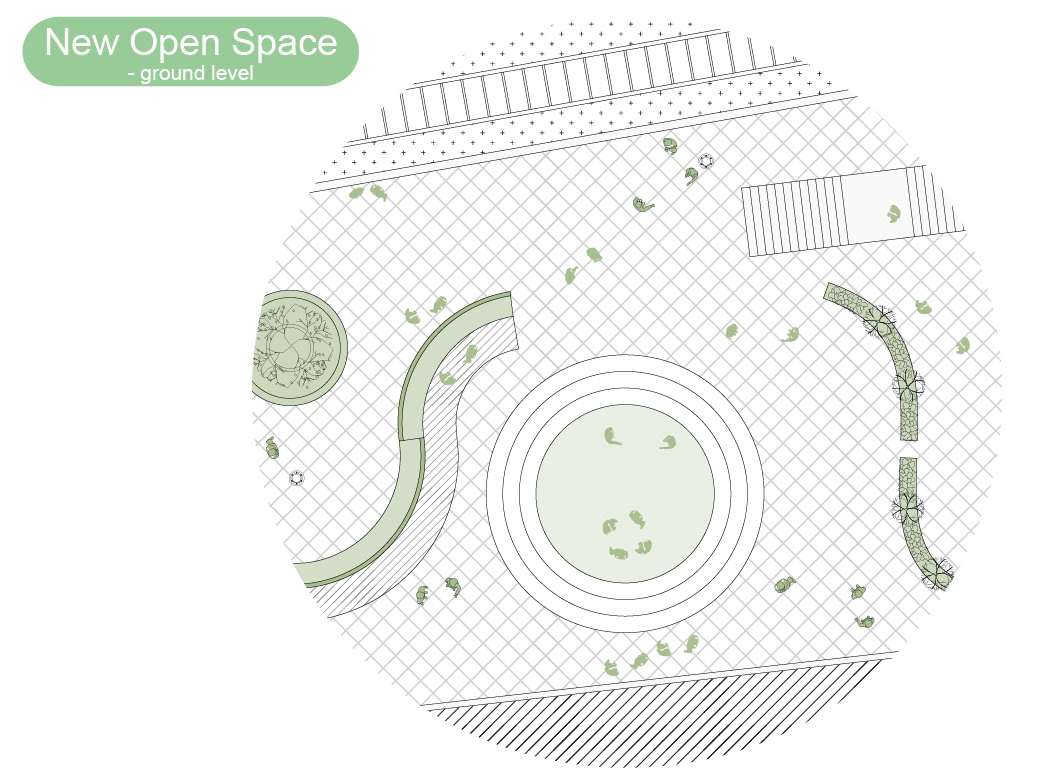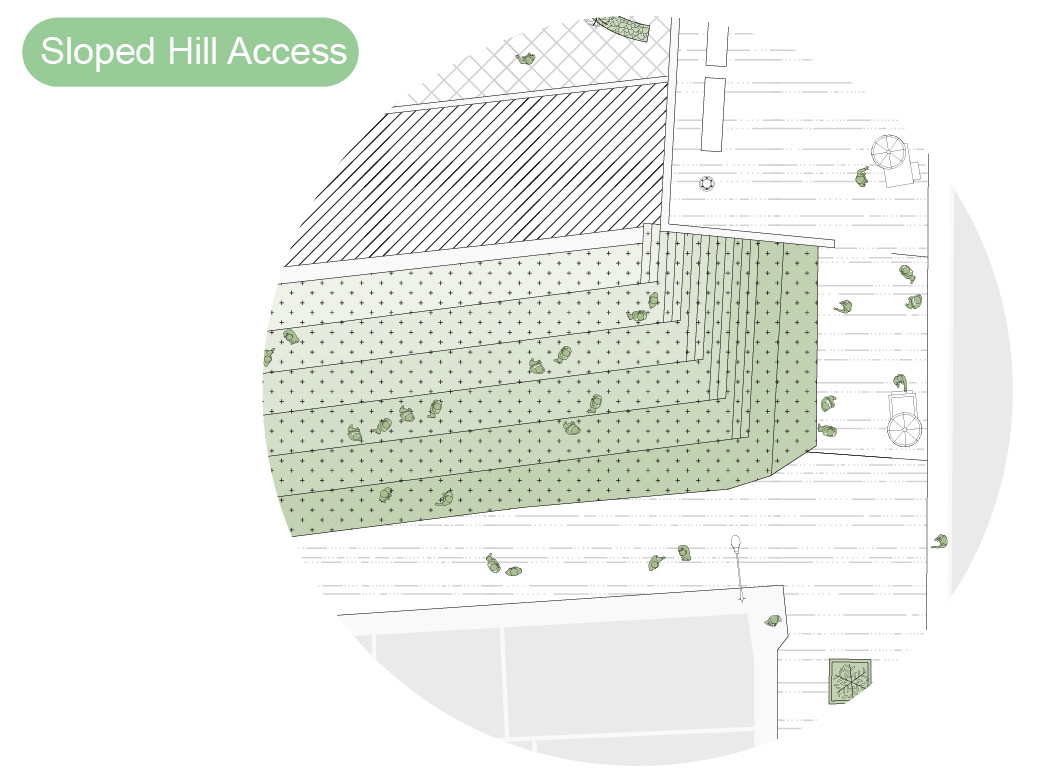 The second phase aims to create built spaces that directly access the river and engage the community with the growing ecosystem. The access primarily begins with a ramp leading to the riverbank below. Its geometry draws in people from the Alemeda and connects with the existing Rayitos de Sol, centralizing and expanding point of access.
La segunda fase apunta a crear espacios construidos que accedan directamente al río e involucren a la comunidad con el ecosistema en crecimiento. El acceso comienza principalmente con una rampa que conduce a la orilla del río. Su geometría atrae a gente de la Alameda y conecta con los Rayitos de Sol existentes, centralizando y ampliando el punto
de acceso.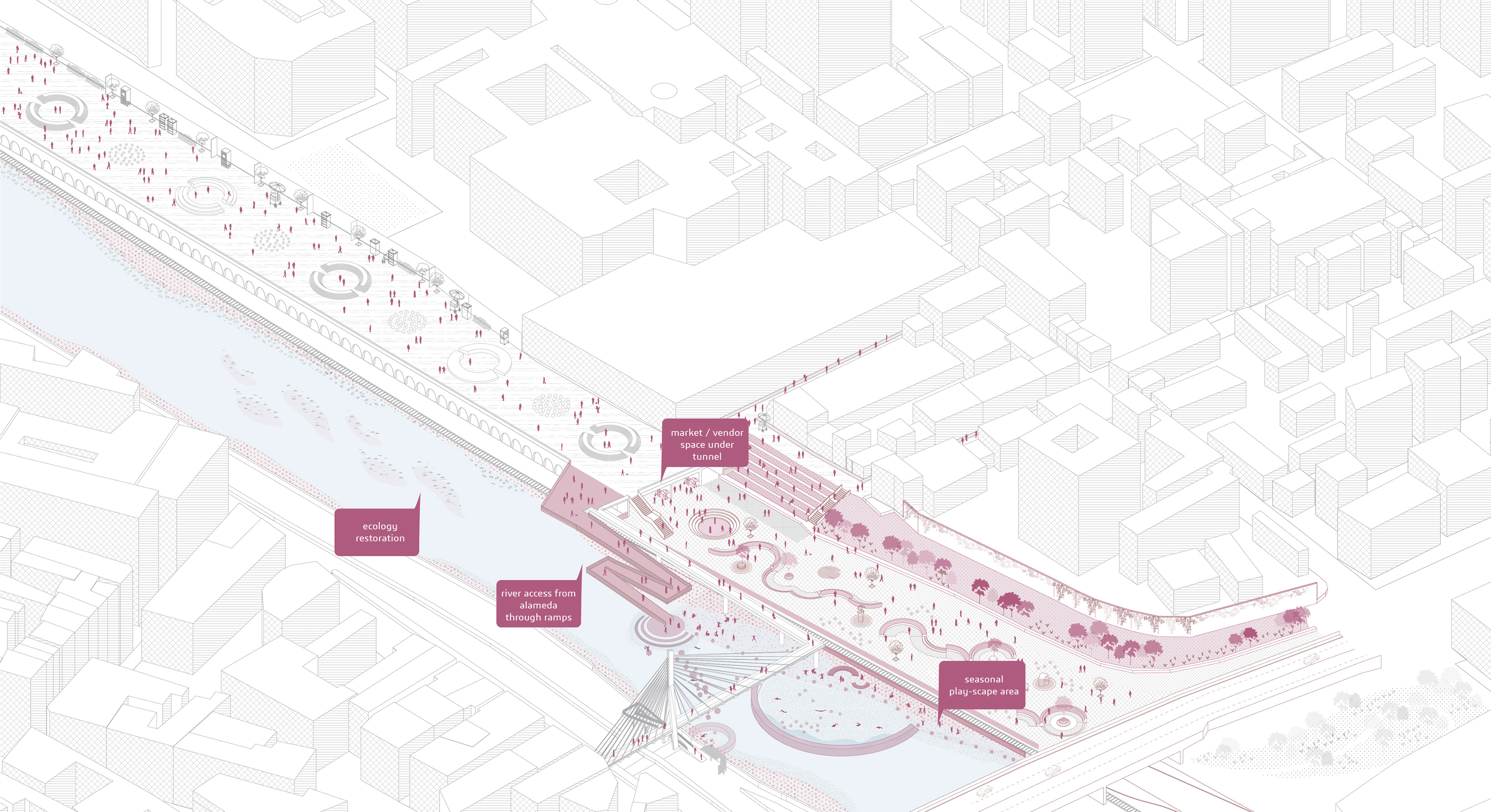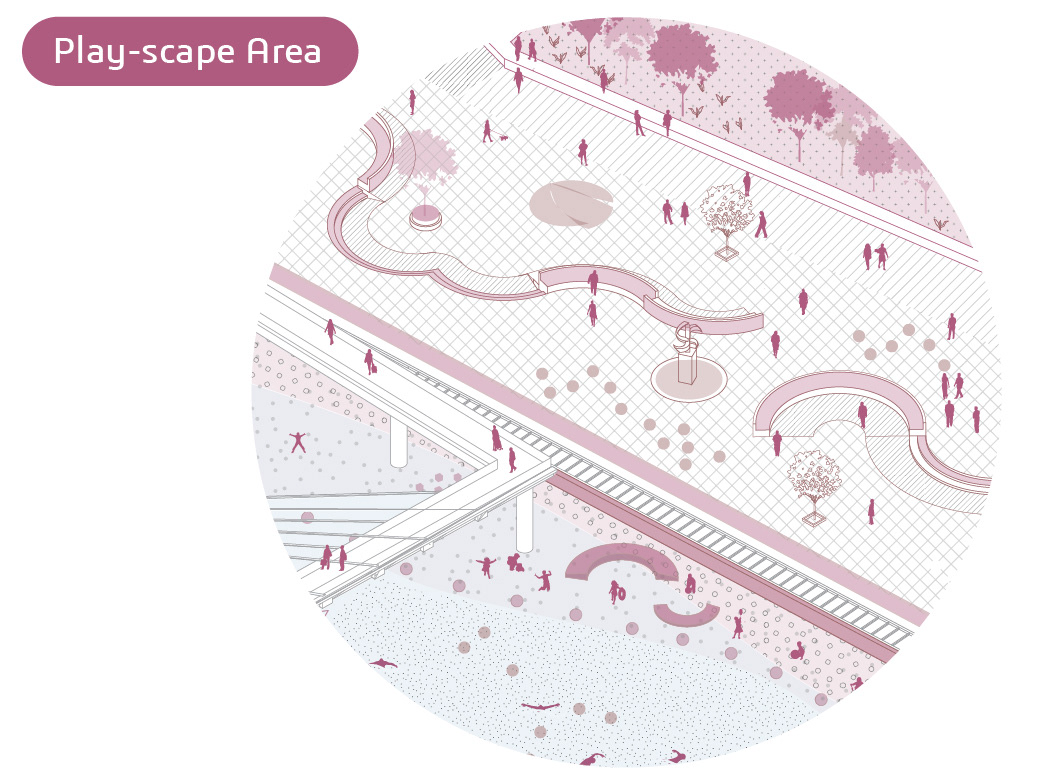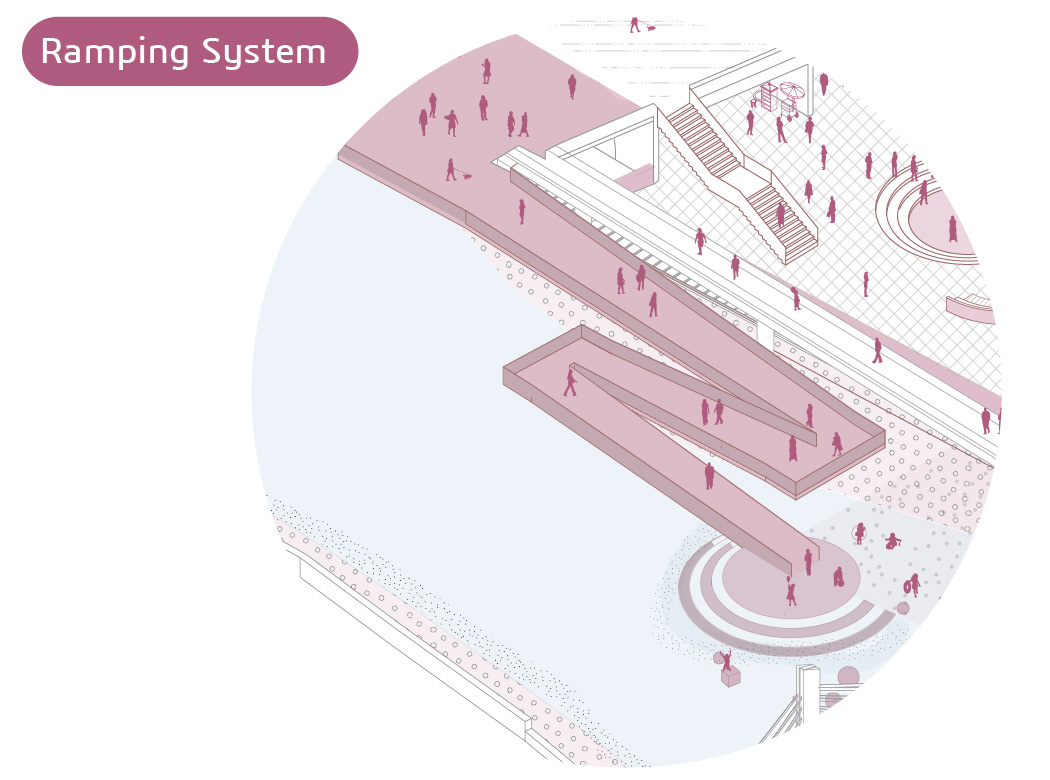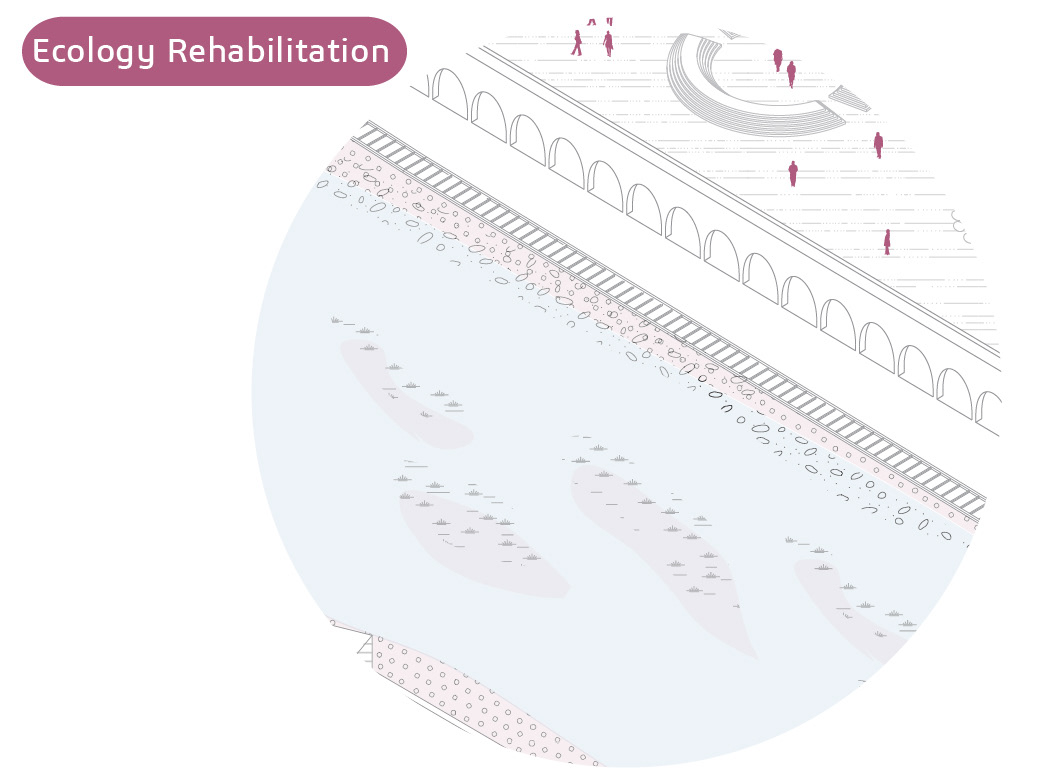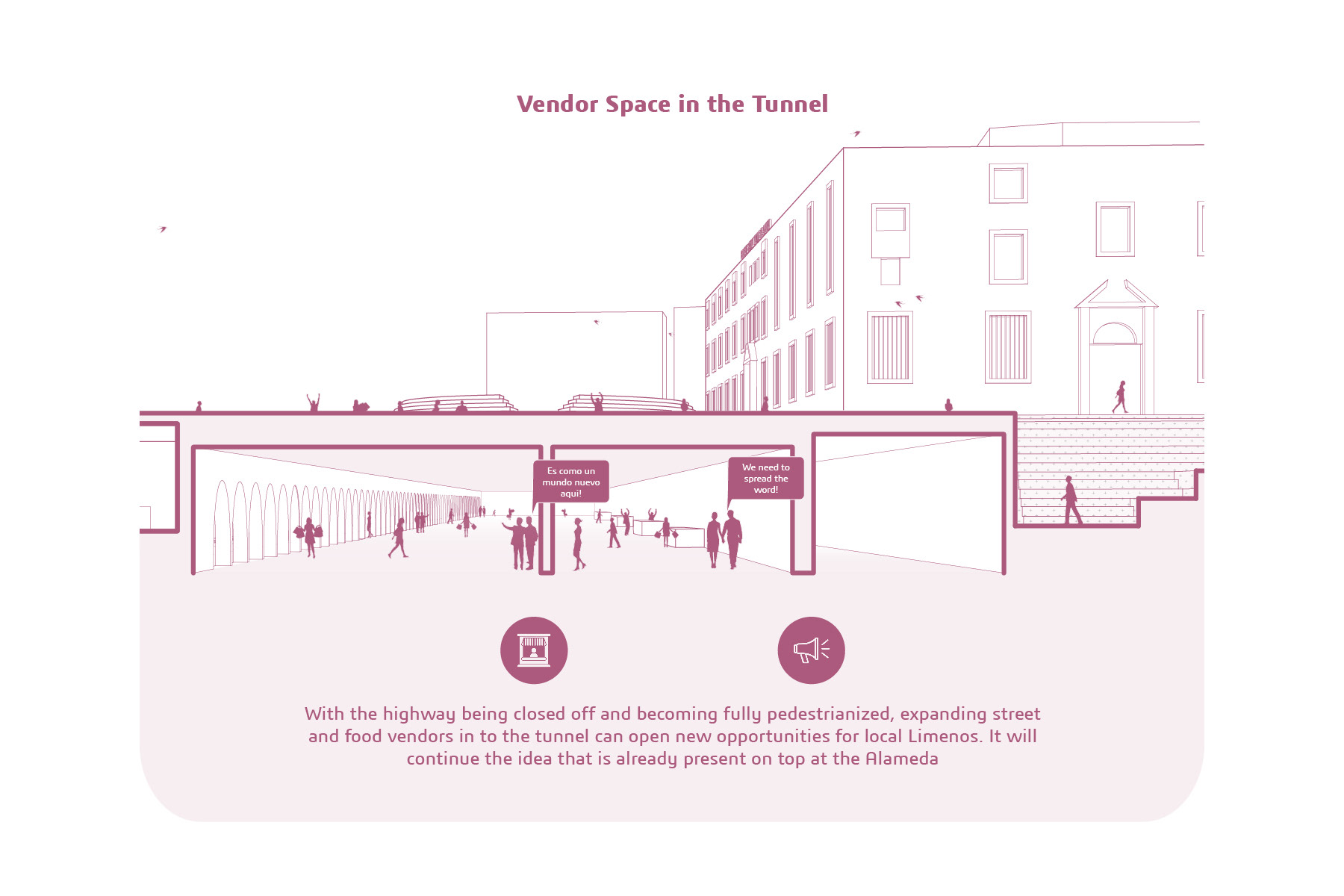 Ending at the riverbank, the ramp leads to a series of filtered swim spaces accessed through a series of seasonally exposed steps and spheres. This creates an interactive play scape aimed towards young Limeños and their families. We also propose an extended series of spaces for gathering, creating an extended riverside park.
Terminando en la orilla del río, la rampa conduce a una serie de espacios de baño filtrados a los que se accede a través de una serie de escalones y esferas expuestos estacionalmente. Esto crea un paisaje de juego interactivo dirigido a los jóvenes limeños y sus familias. También proponemos una serie ampliada de espacios de reunión, creando un extenso parque ribereño.